Tile & Grout Cleaning in Western North Carolina
Check out the tile & grout in your lobby, guest rooms, restrooms and bathrooms. Do you notice that grout is darker in some areas? Is the particularly floor slippery when wet? Does mopping with a string mop seem to make no difference at all?
Deep Cleaning and Unique Enhancements for your Tile & Grout
(and other hard surfaces like concrete, natural stone, brick, pavers, etc.)
Professional Deep Cleaning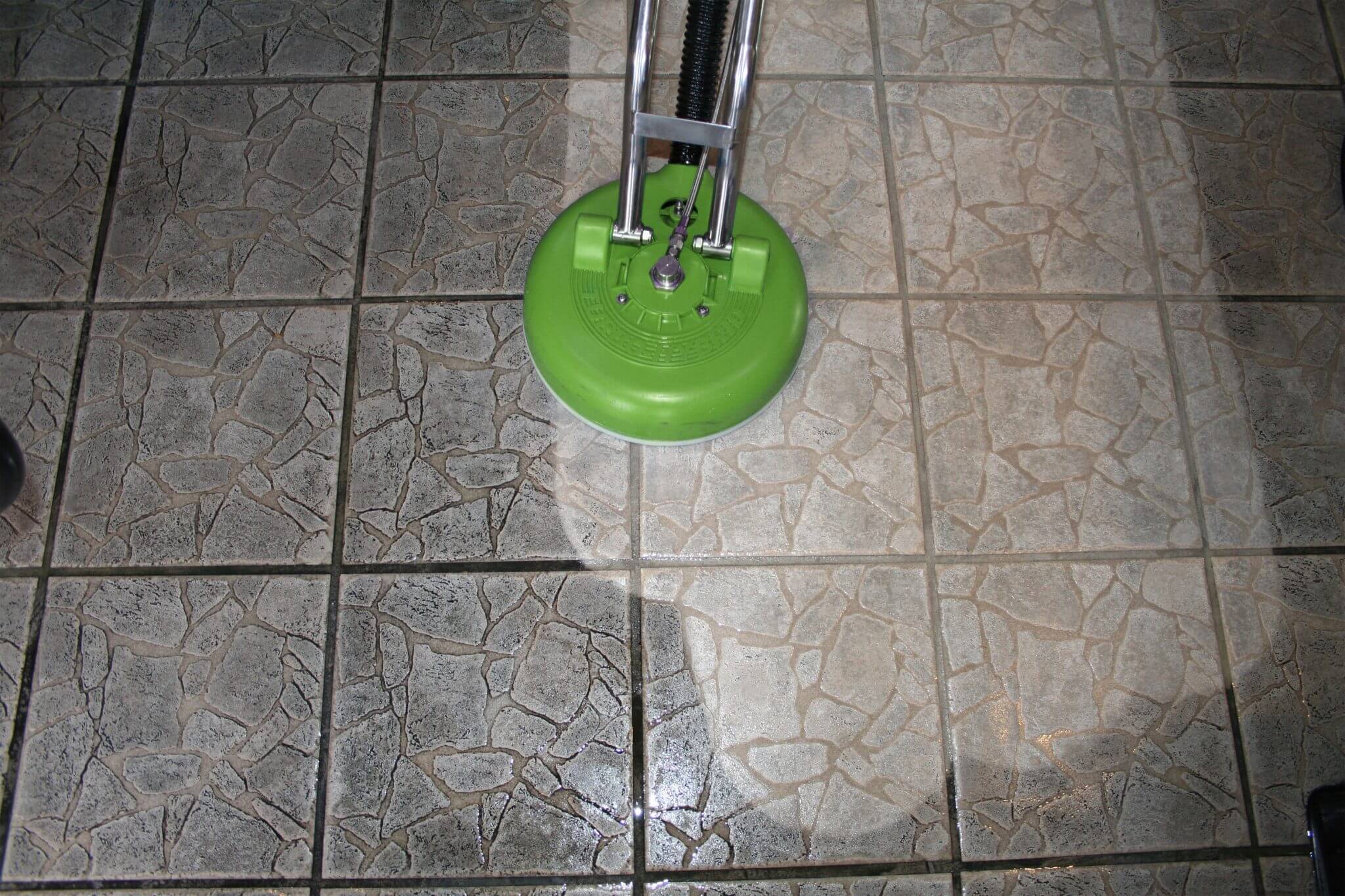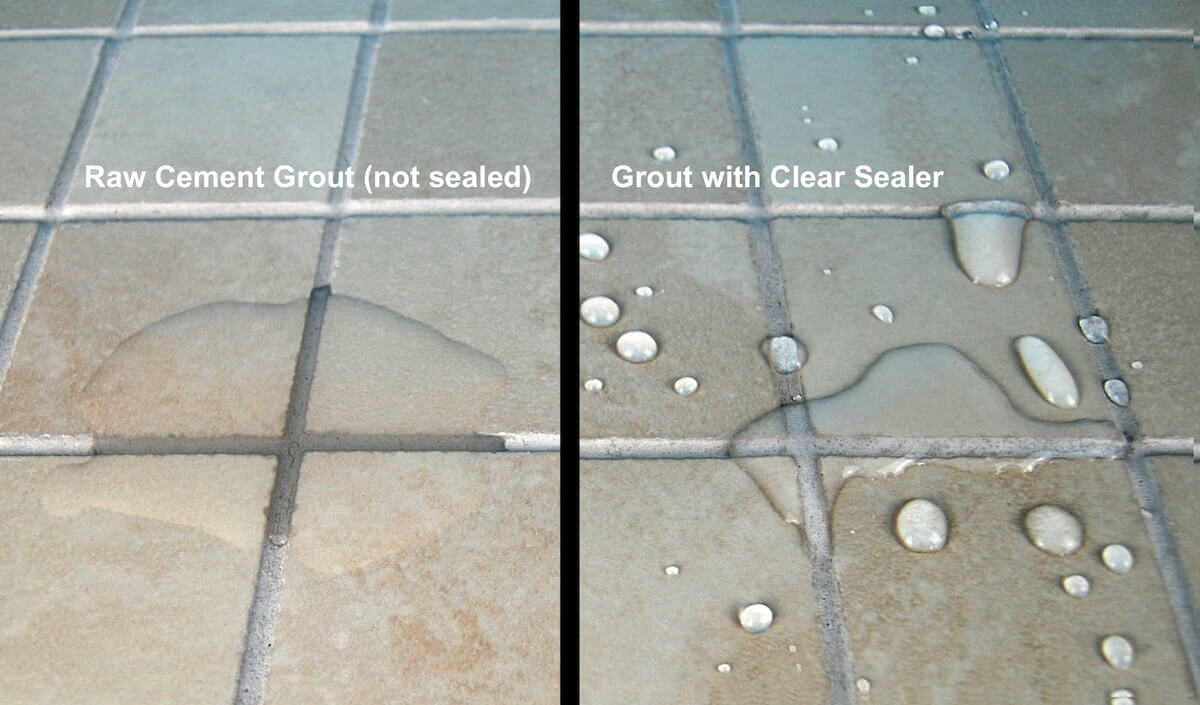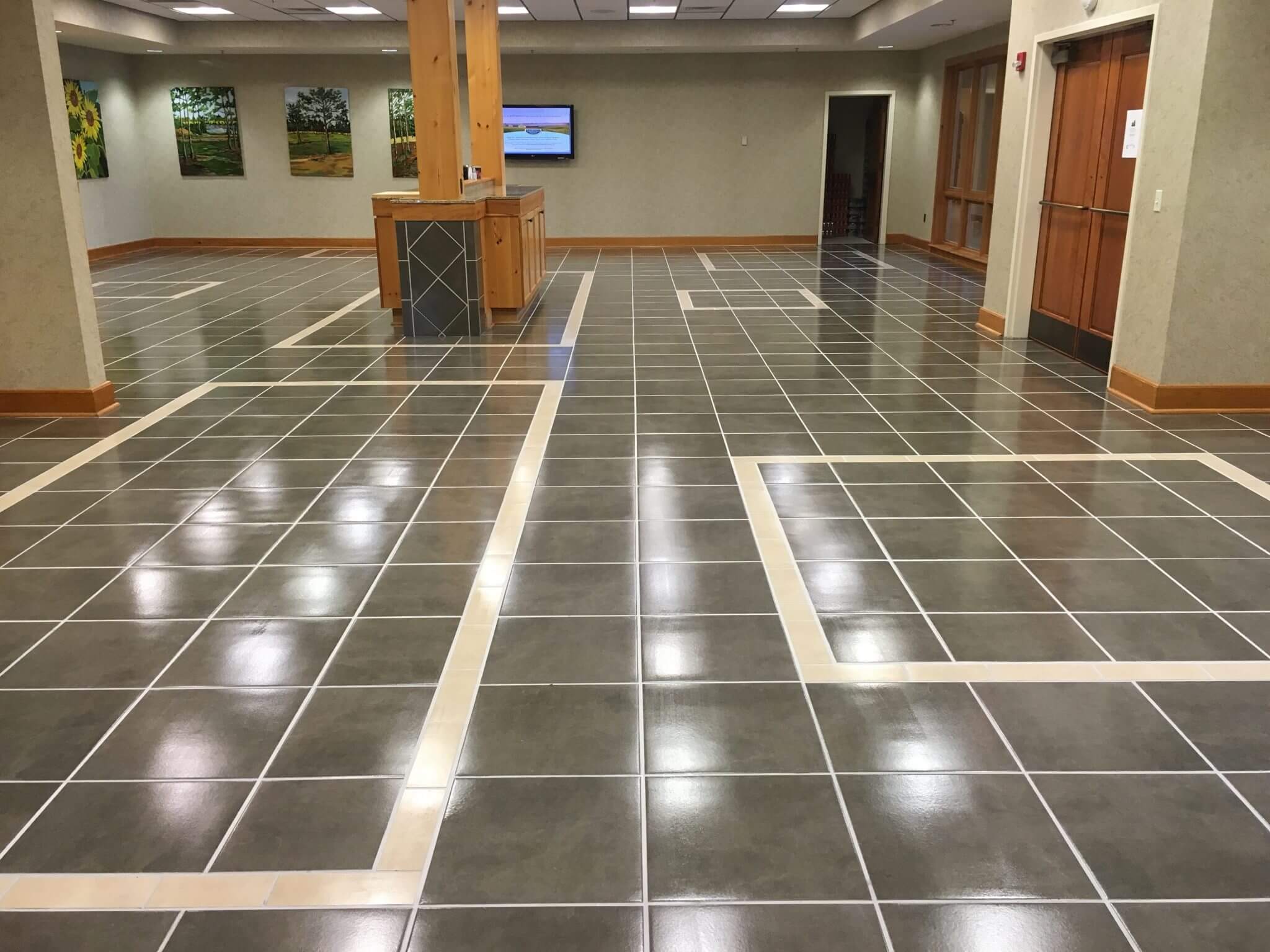 Detailed information about each cleaning floor service for tile and grout floors
Professional deep cleaning the entire surface effectively
* Porous materials absorb water/dirt and it's hard to get them clean
* Mopping does not clean – it just pushes dirty water around until it dries leaving dirt in low spots and porous materials
* Cleaning tile & grout and other hard surfaces requires proper solutions and tools. We apply the appropriate chemicals for your surface and type of soil and then extract the soil with contained high-pressure. Blasting 1000+psi of water onto the surface and simultaneously vacuuming it back out (unlike pressure washing with a wand). This process is safe for property installed tiles and grout, however damaged or weak materials may be adversely affected by our process including complete removal of some material.
PROCESS
1. We start by protecting surrounding areas that are not being cleaned. We will use towels, mats, plastic etc to protect surrouding floors when necessary
2. Next we apply the appropriate solution: typically our heavy duty tile & grout emulsifer to breakdown the soils on the tile and in the grout.
3. Often we will scrub the surface using special grout brushes or one of our scrubbing machines on larger areas
4. Then we use contained high pressure tool to rinse and extract – 1000+psi of water blasts the soil from the tile and grout surfaces and our built-in vacuum system quickly sucks it all up.
5. For remaining grout stains we can treat with a specific product to attempt to remove these stains when possible.
6. Finally, we dry the floor with fans, air movers, towels to prepare for foot traffic OR one of the available add-on services.
Sealing the grout (or other porous materials) (optional add-on after cleaning)
* Clear Sealer
Clear sealers apply only on the porous material (usually grout or natural stone). Clear sealers typically don't change the look of the grout/stone much, though it might give the appearance that the sealed surface is wet (slightly darker than when it's dry).
Clear sealers are not applied to ceramic tiles themselves – only to the grout lines (or in the case of natural stone, the entire surface might need to be sealed).
* Color Sealers
Color sealers seal the grout just like a clear sealer BUT also add new color to the grout.
Coloring the grout may be necessary when cleaning reveals permanently stained grout or when grout repairs have been made using a different color grout. Sometimes if soil/dirt has been stuck in the grout for too long, no amount of cleaning will make the stain disappear.
Coloring the grout is also effective to change the look of the floor completely. It is more cost effective and faster to make a room look clean, new or modern by just re-coloring the grout lines.
PROCESS
1. Starting with a professionally cleaned floor is very important.
2. Clear Sealers
For clear sealers we apply with a bottle, a squeegie or a mop depending on the size of the tiles, grout lines and area we are treating
We let the product absorb into the grout and re-apply as necessary
We then wipe up any extra product and also wipe the floor with damp towels to remove any residue
We then dry the floor again
3. For color sealers
We apply the color product to the grout and gently scrub it in manually to ensure the grout is completely covered and reapply to areas where the color absorbs deep into the grout.
On larger areas or small tiles we might scrub the product into the grout with a machine
Once the product has absorbed, we clean off excess product from the tiles using towels or a machine
We then wipe the floor with damp towels and dry it
4. For natural stone and other porous surfaces: the process is similar to clear sealer for grout. We apply the appropriate sealer and allow it to absorb then re-apply as necessary while cleaning up any excess sealer
High-Performance Floor Coating covers the entire floor – tiles AND grout lines.
Our coatings give the floors new features;
* Safe – our coatings make the floor HIGH TRACTION. This means it is safer to walk on the floor even when wet
* Healthy – our coatings are ANTI-MICROBIAL – which means bacterial can't feed on the coating and can't grow/spread
* Beautiful – our coatings make the floor shiny or flat – with either our high-gloss sheen or the new matte finish
* Low-Maintenance – a floor that has been coated is easier to clean. It is chemical, stain and heat resistant and can be cleaned with just warm water and a microfiber mop – no harsh chemicals needed! Our coating does not need to be waxed or buffed ever!
PROCESS
1. Starting with a professionally cleaned floor is critical to a successful application
2. Optional color seal with appropriate dry time is recommended before coating because stains will not be accessible after coating and grout cannot be colored after coating.
3. Depending on finish chosen, after coating the floor may always look 'wet'. The grout will typically be a shade darker, the tiles will shine and the colors of the tile will be enhanced.
4. Our high-quality coating products are expected to last 3-5yrs before needing recoated and have been known to withstand foot traffic from hundreds of thousands of people.
5. The coating can be walked on in 8-12 hours depending on product used, airflow and temperature. During installation and dry-time, some people may notice the strong odor of alcohol of some of our coating products.
6. For 5 days after installation, there should be no chemicals used on the floor while it cures. But foot traffic and light use is ok after the 8-12 hours dry time.
7. After the 5 day cure time, the floor should be cleaned with only neutral PH cleaner or warm water and a microfiber mop. The coating will stay shiney (with gloss finish) and should not be buffed or waxed.
Want to have a restored floor?
Let's have a talk about your problems
FREE QUOTE
Serving commercial and residential customers in western North Carolina
Quick Dry Carpet Cleaning
Tile and Grout Cleaning
Clear and Color Sealer
Also serving commercial, government and educational customers in north Georgia and east Tennessee